Breakfast is often touted as the most important meal of the day, as it not only provides the energy and nutrition you need until lunchtime rolls around, but eating this meal may help support weight management goals, support heart health, and help keep your mind sharp, depending on what you choose to put in your belly.
While you may already know that starting your day with fresh fruit, wholesome Greek yogurt, and whole-grain oats are great choices to lean on when you are focused on supporting your overall health, you may not realize that you can find some wholesome and nutritious breakfast choices when you are out and about too.
It can be incredibly hard to sift through those novel-size menus at different chain restaurants, and with conflicting nutritional information running the gamut of our media consumption, how do we know what's actually healthy and what to avoid? That's where we come in.
We've rounded up 14 of the healthiest chain restaurant breakfasts from restaurants familiar in all parts of the county, from Waffle House in the Southeast, Coco's Bakery in the Western states, to Canadian chain Tim Hortons in the Northern and Rust Belt states.
Ordering will be a breeze next time you go out for breakfast and you want to keep your healthy eating on track. When you find yourself at a chain restaurant, here are the healthiest breakfast orders to consider.
PER WRAP

: 510 calories, 13g fat (5g saturated fat), 1470mg sodium, 58g carbs (3g fiber, 4g sugar), 37g protein
First Watch is known for its variety and fresh options, and the Power Wrap stands above the rest in the nutrition department. This wrap comes with a variety of veggies such as spinach, crimini mushrooms, and pico de gallo while lean turkey and egg whites provide a whopping 37 grams of protein. All wrapped in a tomato basil tortilla and served with a side of seasonal fruit, this Power Wrap really ticks all of the nutritional boxes without the bland taste.
Denny's Loaded Veggie Omelet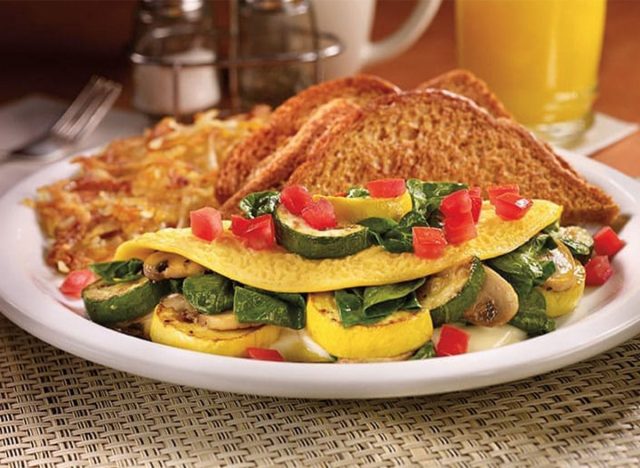 PER OMELET

: 450 calories, 33g fat (11g saturated fat), 600mg sodium, 8g carbs (2g fiber, 4g sugar), 29g protein
Denny's Loaded Veggie Omelet really cuts through the noise of competing full-fat and sugar-packed options. This omelet (which can be substituted with egg whites, if you prefer) comes loaded with spinach, sauteed mushrooms, bell peppers, onions, tomatoes, and Swiss cheese (for that extra calcium boost). Opt for a side of fresh fruit over those greasy hash browns, and you've got yourself a well-balanced breakfast.
IHOP Plant-Based Sausage Power Combo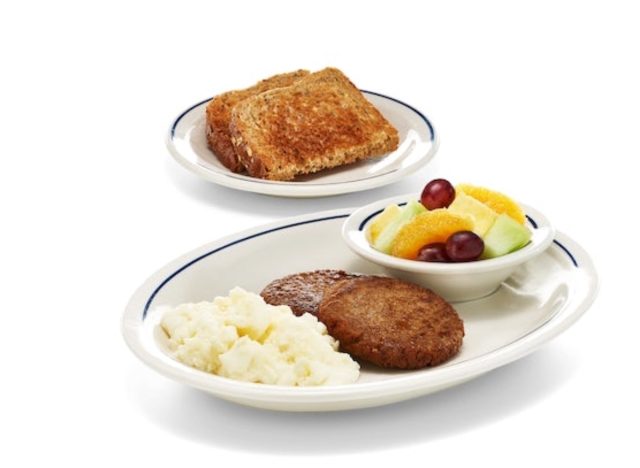 PER MEAL

: 400 calories, 18g fat (5g saturated fat), 770mg sodium, 37g carbs (9g fiber, 22g sugar), 25g protein
Whether or not you follow a vegetarian diet, it's good to keep your meat consumption in check. The US Department of Health and Human Services recommends anywhere from 23-33 ounces per week of meat, poultry, and eggs, so occasionally opting for plant-based patties can be a good substitute. Served with scrambled egg whites, fruit, and multigrain toast (we recommend fiber-filled multigrain toast over the pancake option), this meal is relatively balanced and won't lead to you leaving IHOP feeling sluggish.
Starbucks Spinach, Feta, and Egg White Wrap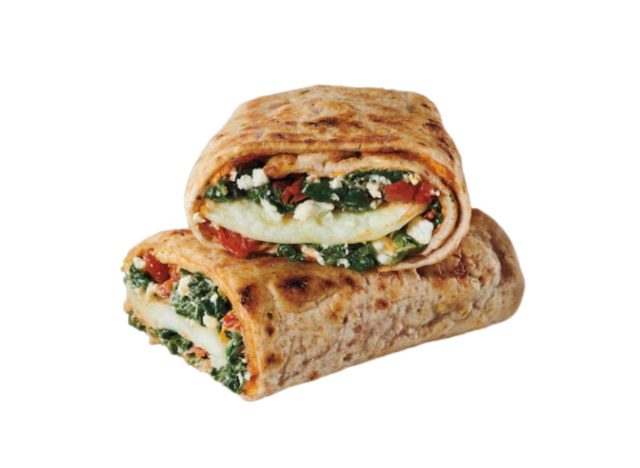 PER WRAP

: 290 calories, 8g fat (3.5g saturated fat), 840mg sodium, 34g carbs (3g fiber, 5g sugar), 20g protein
When you're on the go and feel you need a little something with your morning brew, we recommend Starbucks' Spinach, Feta, and Egg White Wrap. As opposed to baked goods that can offer fiber but lack other important nutrients, this wrap provides 20 grams of protein and a low sugar count. This little powerhouse will really hold you over until lunchtime—and according to data published in the British Journal of Nutrition, it's important to eat breakfast before you consume that cup of coffee to control blood sugar levels (and, from personal experience, to mediate the jitters).
Tim Hortons Avocado Toast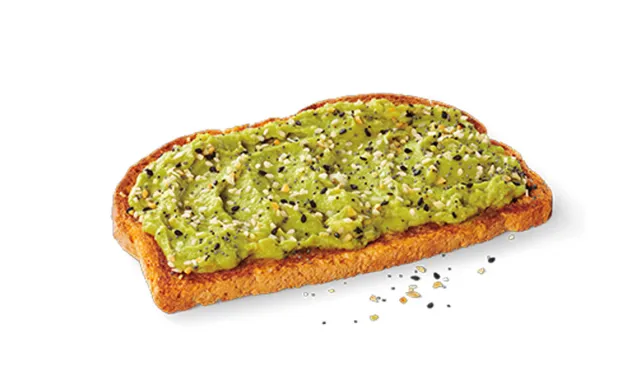 PER SERVING

: 190 calories, 10g fat (1.5g saturated fat), 390mg sodium, 22g carbs (4g fiber, 0g sugar), 4g protein
Mostly located along the Rust Belt and in the Northeastern states, Canadian-based Tim Hortons has become a family favorite for its quick service and delicious coffee. When opting for a quick bite, we recommend Tim Hortons' avocado toast which has blown up in recent years, and with good reason. Avocado is a great source of vitamin K, an essential nutrient for bone health, fiber to support gut health, and omega-3 fatty acids. Not to mention that avocados are just downright delicious.
Another Broken Egg Skinny Shrimp Benny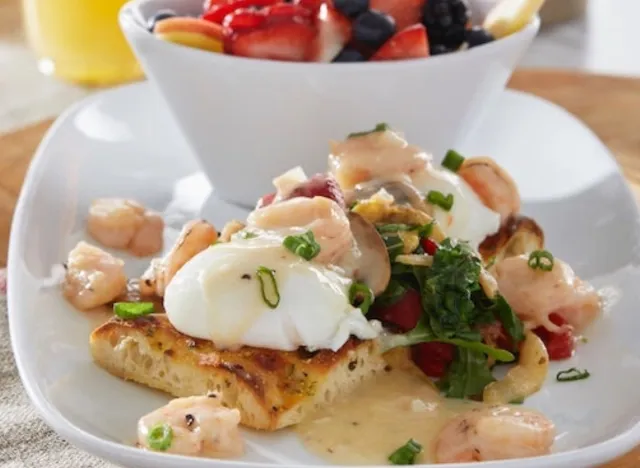 PER SERVING

: 580 calories, 25g fat (6g saturated fat), 1890mg sodium, 37g carbs (2g fiber, 3g sugar), 33g protein
At Another Broken Egg, you get that Mom-and-Pop feel while still dining at a national chain. Although we don't love the name of this dish—as being "skinny" doesn't necessarily equate to overall health—we do love the 33 grams of protein offered by the Skinny Shrimp Benny. This twist on the classic Benedict offers iodine-rich shrimp and a medley of vegetables such as mushrooms and peppers over delicious focaccia bread. As this dish does come with a decent amount of sodium (that delicious velouté sauce comes with a price), we recommend steering clear of too much coffee and other diuretics and drinking ample amounts of water.
Marie Callender's Oatmeal (Without Brown Sugar) and Turkey Sausage
PER MEAL

: 490 calories, 17g fat (5g saturated fat), 650mg sodium, 57g carbs (6g fiber, 25g sugar), 22g protein
As Marie Callender's is known for luxurious, home-style breakfast spreads, we had to do a bit of sleuthing to build ourselves a healthier and more balanced breakfast. Marie Callender's offers a nice piping bowl of fiber-rich oatmeal (just ask to hold the optional brown sugar) complete with iron and antioxidant-packed raisins. To add a bit more protein to your meal, we recommend adding a side of turkey sausage (which is naturally leaner than traditional pork sausage).
Dunkin' Wake-Up Wrap with Turkey Sausage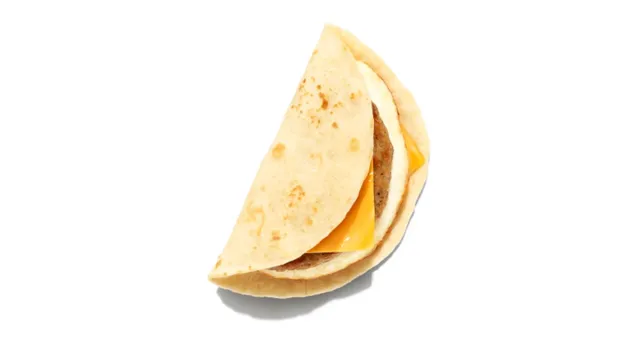 PER WRAP

: 240 calories, 15g fat (6g saturated fat), 680mg sodium, 15g carbs (0g fiber, 1g sugar), 11g protein
You may be thinking, "What the heck is Dunkin' doing on here!?" But as it turns out, Dunkin' does offer a couple of healthier breakfast choices (unfortunately, their donuts didn't make the cut). Dunkin's Wake-Up Wrap, specifically with the turkey sausage option, is a great lower-calorie and high-protein breakfast to get your morning started. This wrap keeps it simple with eggs, cheese, and turkey sausage all wrapped nicely together for easy one-handed eating. The biggest takeaway here is the obvious portion control, as these wraps are smaller than many of their more loaded offerings, meaning that you can help yourself stay on track toward your nutrition goals with smaller options.
Chick-fil-A Greek Yogurt Parfait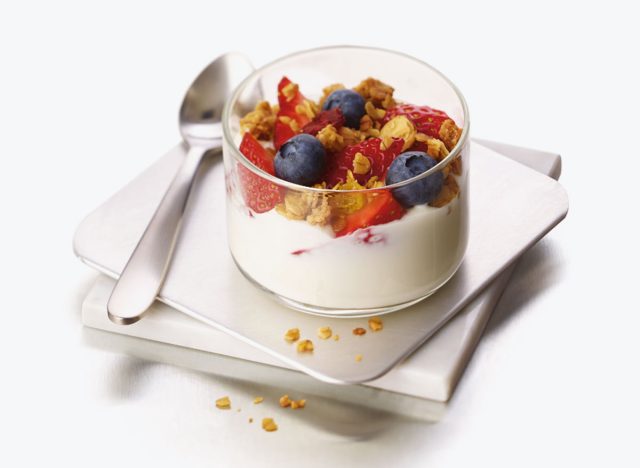 PER PARFAIT

: 270 calories, 9g fat (3.5g saturated fat), 80mg sodium, 36g carbs (1g fiber, 26g sugar), 13g protein
It's hard to scroll past those chicken biscuits, we know that all too well. But your best option at Chick-fil-A is their Greek Yogurt Parfait which is made with organic vanilla bean Greek yogurt with your choice of granola or cookie crumbs. Not surprisingly, we recommend that you opt for the granola to cut down on your overall sugar consumption and avoid any after-breakfast sugar crash. Additionally, yogurt is a great source of live and active cultures (aka probiotics) which have been shown to aid in digestion and keep your gut regular.
Mimi's Cafe Brown Sugar Oatmeal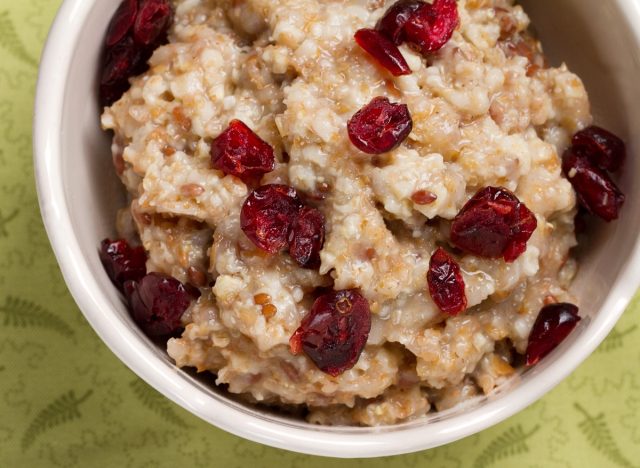 PER SERVING

: 377 calories, 6g fat (2g saturated fat), 462mg sodium, 68g carbs (7g fiber, 30g sugar), 12g protein
Oatmeal doesn't have to be boring, and in fact, it can be downright delicious! Oatmeal is an immaculate source of oft-overlooked nutrients such as manganese, phosphorus, and magnesium and has been shown to potentially aid in healthy weight management. Served with milk (pour over that extra calcium if you'd like!) and cranberries, you can also add more mixed berries for an additional antioxidant kick.
If you are open to it, enjoy your oats with a side order of scrambled eggs for additional protein.
Biscuitville Grilled Chicken, Egg, and Cheese English Muffin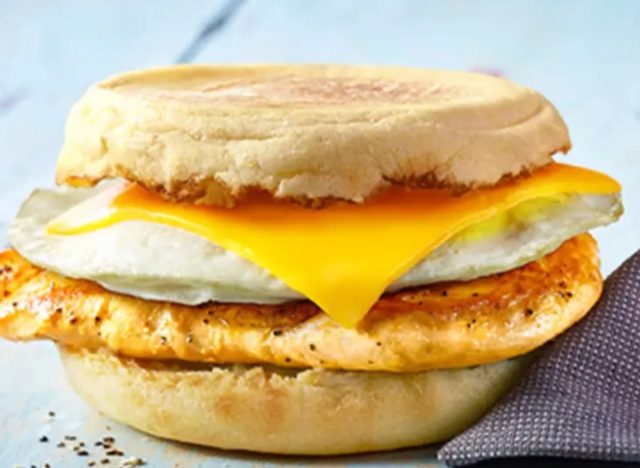 PER SANDWICH

: 390 calories, 11g fat (4g saturated fat), 720mg sodium, 33g carbs (1g fiber, 1g sugar), 33g protein
In lieu of grease-heavy and calorie-dense bacon or sausage, Biscuitville offers a Grilled Chicken, Egg, and Cheese English Muffin in an effort to help you with your nutritional goals. This all-natural chicken breast is a leaner, high-protein meat that lends this English muffin 33 grams of protein with only 11 grams of fat (mostly from the cheese and egg) and only 1 gram of sugar. For your side, consider choosing lighter options like a cup of grits instead of hash browns to skip that sluggish after-breakfast feeling.
Eggs Up Grill 'The Greek' Omelet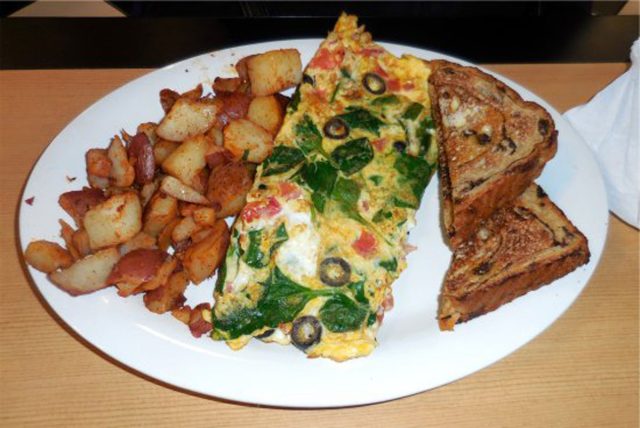 PER OMELET

: 300 calories, 15g fat (8g saturated fat), 1160mg sodium, 9g carbs (2g fiber, <1g sugar), 30g protein
For years, scientists and registered dietitians have touted the benefits of the Mediterranean diet which promotes minimally-processed and wholesome, plant-based foods as well as leaner, protein-rich meats. This all comes to fruition within Eggs Up Grill's Greek Omelet, which boasts iron-rich spinach, feta cheese, tomatoes, and black olives, the latter of which are packed with heart-healthy monounsaturated fats and vitamin E which is an antioxidant nutrient. Add on the protein found within the eggs, and you've got a very balanced and satisfying breakfast.
Panera Avocado, Egg White, Spinach, and Cheese on Sprouted Grain Bagel Flat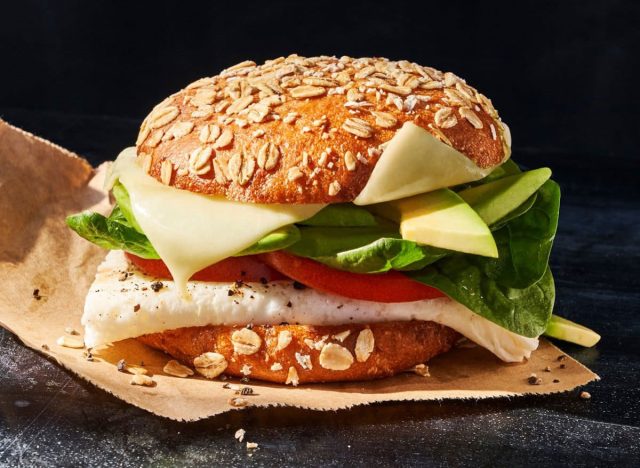 PER SANDWICH

: 350 calories, 14g fat (5g saturated fat), 680mg sodium, 39g carbs (5g fiber, 5g sugar), 19g protein
Before 10:30 am, you can get a delicious, well-balanced breakfast from Panera Bread which, besides decadent pastries and sandwiches, offers high-protein breakfast options like this Avocado, Egg White, Spinach, and Cheese on Sprouted Grain Bagel Flat. With avocado, which is high in omega-3 fatty acids, protein-rich egg whites, and spinach, this meal is your best bet for breakfast. And what does "sprouted" mean? This just means the sprouted grains have been soaked in water until they germinate which ups the ante in the nutrition department because it makes it easier for your body to actually use the nutrients.
Waffle House Egg Breakfast with Tomatoes and Wheat Toast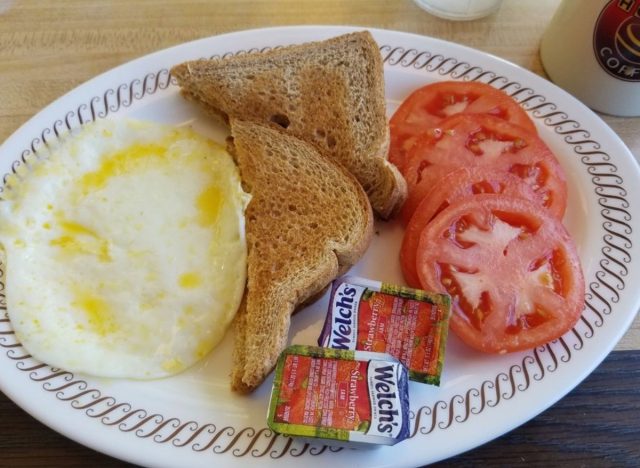 PER MEAL

: 410 calories, 26g fat (9g saturated fat), 450mg sodium, 26g carbs (5g fiber, 6g sugar), 21g protein
If you find yourself in front of the griddle, we recommend ordering the "Egg Breakfast" and substituting those hash browns for a side of delicious lycopene-rich tomatoes and subbing white for heart-healthy wheat toast. Of course, this meal still has its foibles (26 grams of fat isn't ideal), but this is a much more nutritionally-dense option than that smothered and covered hash browns that have made Waffle House famous for late-night snacking.