U.S. defense spending topped a whopping $612 billion in 2016. For many people, that level of commitment to the military is worth it to keep America and its interests safe. On the other hand, critics of military spending see better ways to invest that money, including domestic concerns.
Wherever you stand on the defense budget, nearly everyone agrees the U.S. sends out an awe-inspiring military every year. The vision of planes landing on an aircraft carrier stirs citizens of most political bents, and the capabilities of land-based vehicles tend to inspire curiosity in almost everyone.
If the latest tanks, troop-haulers, and patrol machines on wheels interest you, we have you covered. Here are 25 of the most badass military vehicles in use by the U.S. armed forces.
1. M117 Guardian
When forces need something more armored than a Humvee but still require significant mobility, the M117 Guardian goes into action. This 15-ton vehicle runs on a Cummins diesel engine (260 horsepower, 828 pound-feet of torque) and reaches a top speed of 65 miles per hour. To keep enemies at bay, the Guardian accommodates two types of machine guns and an automatic grenade launcher. Textron Marine and Land Systems produces this model.
2. Stryker Combat Vehicle
The Stryker vehicle serves to transport troops to the scene of a battle and provide cover while they prepare to fight. It runs on eight wheels and can beat off machine-gun fire without issue. To improve the usefulness of Stryker, the military began upgrading the vehicle with cannons and anti-tank guided missile systems in 2016. In its most potent form, enemy tanks have a hard time overpowering it.
3. M1 Shredder
Using the chassis of the workhorse M1 tank, the U.S. Marine Corps (USMC) and Army found a replacement for the M1 Grizzly in this M1 "Shredder" Assault Breacher. While the tank is an offensive weapon, the Shredder serves as a utility model, clearing space by ramming anything in its path. Though it does have a machine gun and smoke grenades on board, the Shredder is more of a badass support vehicle. It hits a maximum of 1500 horsepower and can reach a top speed of 43 miles per hour.
4. M2 Bradley Fighting Vehicle
There are several versions of BAE's Bradley Fighting Vehicle (BFV), but the one designed for combat missions features a 25 mm Bushmaster cannon and armor-crushing missiles on board. This model transports up to 10 soldiers at a time and features a 600-horsepower engine. Top speed is 35 miles per hour. The BFV weighs nearly 71,000 pounds and holds 155 gallons of fuel in its tank.
5. AAv7 Amphibious Assault Vehicle
Marine operations take the Corps on land and by sea, and the AAV7 is the assault vehicle that can handle both. Capable of handling a crew of three along with 25 marines, this vehicle can travel up to 20 nautical miles at sea or 300 miles on land. A 25 mm Bushmaster machine gun, 40 mm grenade launcher, and M2HB .50-caliber machine gun provide cover. On paved roads, it can even reach a top speed of 45 miles per hour.
6. M109A7 tank
The U.S. Army Armored Brigade Combat Team (ABCT) leaned on the M109A6 Paladin self-propelled Howitzer for decades of support in artillery missions. BAE Systems, producer of this tank, began upgrading the M109A6 for greater combat capability in 2014. The resulting M109A7 builds upon the profile of this behemoth overseas with a new chassis and upgraded digital suite.
7. Avenger Weapon System
When the Army needs to handle air defense on the move, the Avenger is the go-to weapon. It carries eight Stinger missiles capable of shooting down helicopters or low-flying aircraft as necessary. Its ability to track and shoot while in motion is one of its great assets. Boeing produced this mobile weapon system for the Army until late in the past decade and began supplying the Egyptian army with models in 2008.
8. Buffalo Clearance Vehicle
The Buffalo mine-protected route clearance vehicle (MPCV) helps forces establish command in especially dangerous areas. This heavily armored truck runs on six wheels, weighs 76,000 pounds, and measures 27 feet in length. It packs a Caterpillar C13 engine capable of 1,483 pound-feet of torque, allowing it to reach a maximum speed of 55 miles per hour. Its 30-foot robotic arm, complete with camera and sensory devices, manages route clearance while its V-shaped hull keeps the impact of mine explosions to a minimum.
9. Global HET
It takes a serious hauler to throw a tank on its bed for transport across the desert. Enter the Oshkosh Global Heavy Equipment Transporter (HET). This 6×6 vehicle runs on a Caterpillar C18 engine capable of 700 horsepower and sports a payload capacity of 72 tons (65,317 kg). When a unit needs to deploy a tank with short driving range, the Global HET hauls it to the battle scene.
10. Black Night Transformer
Though the Black Night Transformer is not yet in operation, we felt obligated to include the vehicle known as "the flying jeep." Prototypes boast the ability to reach a maximum speed of 70 miles per hour on land and fly as high as 10,000 feet. Advanced Tactics, which debuted this concept in 2012, envisions it as the ultimate tool for cargo resupply missions. But this transformer does more than drive and fly: The bottom can accommodate a boat hull in place of the drivetrain.
11. M-ATV Assault
Among small-to-midsize vehicles supporting offensive and defensive operations, Oshkosh's M-ATV Assault features a higher level of protection and versatility in attack mode. This model carries up to 11 crew members and uses an independent suspension system that manages the majority of its routes in off-road environments. When it's time to fight, the M-ATV Assault can implement a weapons platform featuring Javelin missiles and a M249 5.56 mm machine gun.
12. M1A2 Abrams Main Battle Tank
Tank development and production moves rather slowly, which explains the long life of the M1A1 Abrams model, originally deployed in 1980. The newer M1A2 Abrams Main Battle Tank runs on the same frame but features depleted uranium armor for enhanced protection as well as a new commander's weapon station with greater tech applications. This tank runs on a Honeywell 1500AGT gas turbine (1500 horsepower) with its main weapon being the M256 smoothbore gun.
13. LVSR Wrecker
The LVSR MKR15 Wrecker is the support vehicle of choice for Marine Corps 10×10 trucks. This vehicle has the ability to reach and retrieve any machine stuck in the mud, snow, or water. Wrecker's lifting and towing capacities are impressive by any standard. It can lift and tow anything weighing up to 96,000 pounds (110,000 pounds for flat-towing). Meanwhile, its rear-mounted winches have a straight-pull rating of 78,000 pounds.
14. Cougar 6×6
While there are several models of the Cougar mine-resistant, ambush-protected (MRAP) vehicles, the 6×6 variant with an automatic grenade launcher could be the most lethal. It sports the V-shaped hull proven effective against IED hits and can withstand rocket-propelled grenade fire as well. Its Caterpillar C-7 diesel engine produces up to 330 horsepower and 860 pound-feet of torque. Fuel capacity gives this Cougar as much as 600 miles of range.
15. LAV-25
Versatility is the LAV-25 light-armored vehicle's greatest asset. This 8×8 machine can operate on land or in the water, giving the military branch in question a tool for reconnaissance, security, or all-out assault. It runs on a Detroit diesel 6V53T engine capable of 275 horsepower and a top speed of 62 miles per hour. In the water, LAV-25 can hit 6 miles per hour. On the weapons front, the LAV-25 uses an M242 25 mm chain gun and M240 7.62 mm machine gun.
16. M88 Hercules Recovery Vehicle
Once seen pulling down the giant Saddam Hussein statue Iraq, the M88A2 Hercules Recovery Vehicle has a fairly high profile as military machines go. Its tank design, 35-ton boom, and 140,000-pound, 70-ton, constant pull winch make it unmatched in the field. Its engine maxes out at 1,050 horsepower and allows the Herc to reach a top speed of 30 miles per hour.
17. CAMEL MRAP
It sounds like "camel," but it stands for "concept for advanced military explosion-mitigating land vehicle." In summary, this 8×8 concept MRAP vehicle served as a way for Detroit Arsenal to showcase its latest technology after seeing weaknesses in troop transport during the modern Middle East wars. The Camel's V-shape in the bottom delivers an enhanced approach to defending against IEDs.
18. M142 HIMARS
The three-person M142 High Mobility Artillery Rocket System (HIMARS) offers a fighting force a lightweight rocket launcher on wheels. Capable of launching six M270 rockets or one MGM-140 ATACMS missile, this unit can do damage to targets up to 186 miles away. Its 6×6 vehicle reaches a top speed of 53 miles per hour and can travel close to 300 miles. A Lockheed C-130 Hercules can transport this vehicle in its hold.
19. M9 Armored Combat Earthmover
The M9 Armored Combat Earthmover (ACE) is another all-star support vehicle for the armed forces. It can knock down walls, clear river banks, smash obstacles, and provide cover for forces setting up in an area. Operated by a single crew member, the M9 ACE requires a high skill level from the driver due to its visibility issues. (Those who complain about seeing out of a Prius can stop now.) ACE uses a Cummins V903C engine capable of 295 horsepower and a top speed of 30 miles per hour.
20. RG-31 Nyala
The RG-31 Nyala is a mine-resistant all-terrain vehicle that holds a crew of nine plus one driver. It features protections against small-arms fire and roadway bombs designed to take out tanks. Late-model variants like the Mk6 offer mine-resistant seating inside the RG-31. These 4×4 vehicles run on Cummins diesel engines capable of over 400 horsepower in the most powerful trim.
21. QinetiQ Raider I Engineer
The QinetiQ Raider I Engineer may not look like much, but its ability to take out IEDs in autonomous mode give it potential for future military use. At its base, Raider I is a four-wheel drive Polaris MVRS700 that controllers can operate nearly 1,000 yards away. With its clearance tools, the Engineer also provides support for command and evacuation operations. The rollers in front and back are built for mine duty.
22. Autonomous Terramax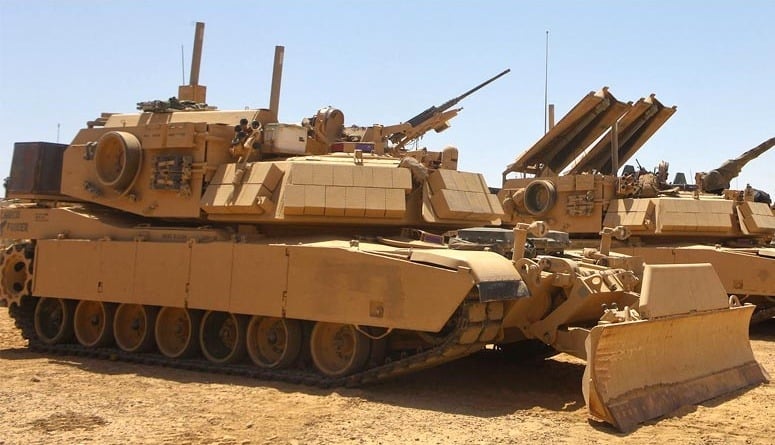 Everyone laughed at Google's little self-driving car when the tech company began testing autonomous vehicle technology. Meanwhile, Oshkosh had been developing its own unmanned driving system for military vehicle use. This technology integrates within heavy-duty vehicles for situations when sending no driver is the best policy. Terramax is an aftermarket upgrade.
23. Oshkosh MMRS Demonstrator
If you ever wondered how armed forces retrieve damaged vehicles from the battlefield, the multi-mission recovery system (MMRS) provides the answer. This 10-wheel-drive beast sports a 50-ton rotating boom that extends over 40 feet. The MMRS can picks up just about any vehicle within that length and move it to where it needs to go.
24. Humvee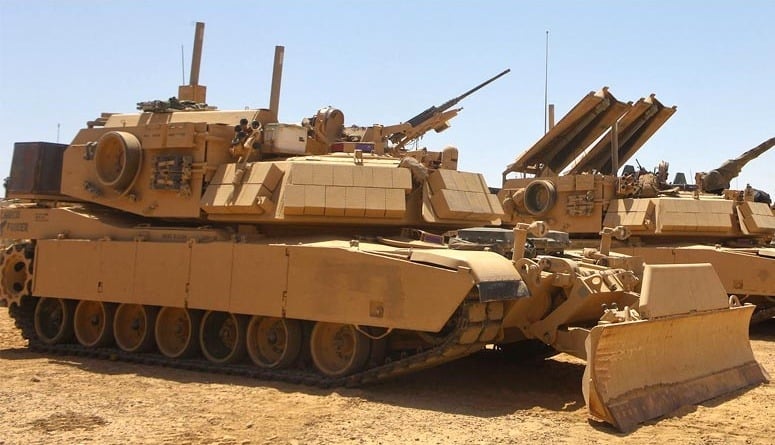 Americans may have gotten sick of "That Guy Who Drives the Hummer" long ago, but this vehicle remains a badass machine when properly outfitted for battle. First used during the 1989 invasion of Panama, the High-Mobility Multipurpose Wheeled Vehicle (HMMWV) used a 6.5-liter diesel engine with four-wheel drive. The protected gun turret featured on newer models first appeared during the wars in Afghanistan and Iraq.
25. P-19R Aircraft Firefighter
When U.S. Marines need to respond to an aircraft down, they put the P-19 Aircraft Fire Fighting (ARFF) vehicle into action. This vehicle can rush to the scene of an emergency with its high-powered engine and ability to carry 1,000 gallons of water and 130 gallons of foam agent in addition to other weighty response equipment. Oshkosh began preparing this upgraded model for the battlefield in 2016.