We all know ice cream is an indulgent treat that's best reserved for special occasions and should always be eaten in moderation. At the same time, we've all had those days when you're feeling especially low, and it seems like the only thing best suited to give you the instant boost of endorphins you desperately seek is to treat yourself to some ice cream. But pair this yearning with a giant spoon and the convenience of pint-sized ice creams you can pick up from any local grocer, and this could be a recipe for overeating, especially if you find yourself gravitating toward the unhealthiest ice cream pints in the freezer. In fact, in the case of some ice cream brands, eating an entire pint can cost you an inordinate amount of calories, fat, and sugar. (Yikes!)
Because we know it can be difficult to limit yourself to a single serving, we set out to identify some of the unhealthiest ice cream pints from a handful of top-selling brands nationwide. This way, you know exactly what you're committing to when you grab a spoon and crack open that container. (Apologies in advance if your favorite frozen treat made our list!)
Our methodology
Below, we've compiled a list of the most caloric and sugar-filled pints of ice cream from some of the most well-known ice cream brands. Only ice cream pints or ice cream pint equivalents were considered, which range from 14 ounces to the standard 16-ounce pint. We also excluded sorbet and dairy-free products from this roundup.
Ben & Jerry's Everything But The…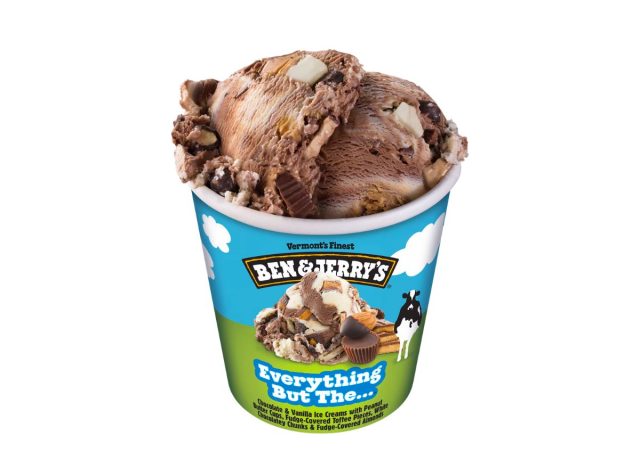 PER CONTAINER

: 1,250 calories, 26 g fat (17 g saturated fat, 0.5 g trans fat), 105 mg sodium, 40 g carbs ( 2 g fiber, 38 g sugar), 7 g protein
Described by Ben & Jerry's as "a collision of chocolate and vanilla ice creams mixed with peanut butter cups, fudge-covered toffee pieces, white chocolatey chunks, and fudge-covered almonds," this pint lives up to its name, offering a sample of every sugary sweet flavor and texture you can imagine. But throwing in everything but the kitchen sink also comes at a high caloric price, as one pint of this ice cream still exceeds three pints of Halo Top's Candy Bar or Chocolate Cake Batter flavors—which at 360 calories per pint, are the brand's highest-calorie ice cream flavors.
Häagen-Dazs' Coffee Chocolate Brownie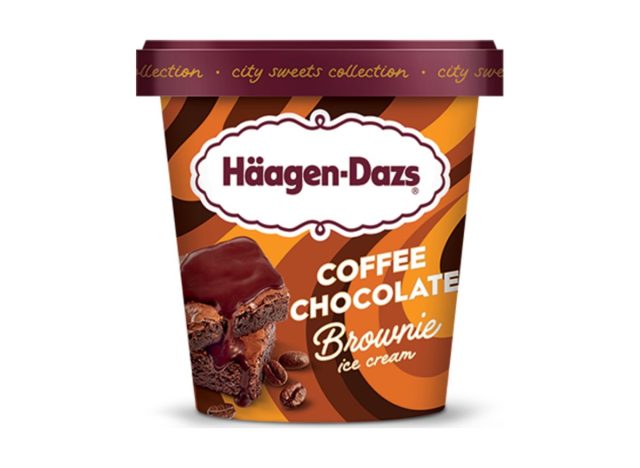 PER CONTAINER

: 930 calories, 52 g fat (31 g saturated fat, 1.5 g trans fat), 340 mg sodium, 100 g carbs ( 4 g fiber, 82 g sugar), 16 g protein
As if Häagen-Dazs' classic coffee ice cream wasn't already indulgent enough on its own, this iconic ice cream brand takes things up a notch by combining it with ooey-gooey brownie swirls, decadent espresso chocolate sauce, and crunchy cocoa nibs. Though both are about 16 ounces, one pint of this ice cream is more than double the calories of a grande Mocha Frappuccino—and that's with whole milk! While Häagen-Dazs may claim that after trying this ice cream, your "local barista may miss you," if you've already purchased this pint, you're probably better off tossing it and reconnecting with your favorite coffee servers ASAP for the sake of your health.
Ben & Jerry's New York Super Fudge Chunk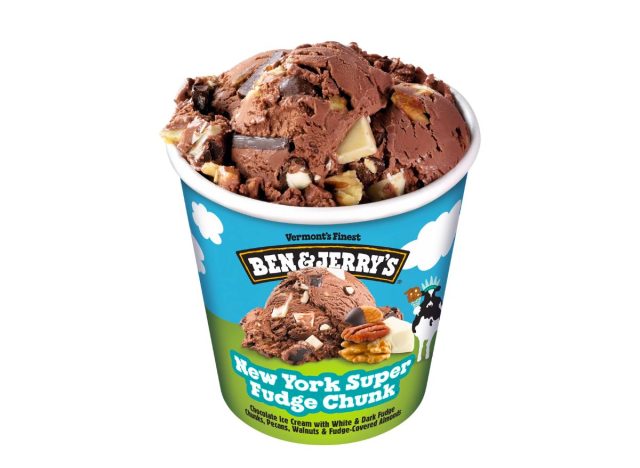 PER CONTAINER

: 1,240 calories, 26 g fat (15 g saturated fat, 0.5 g trans fat), 70 mg sodium, 39 g carbs (3 g fiber, 35 g sugar), 7 g protein
This rich combination of chocolate ice cream, white and dark fudge chunks, pecans, walnuts, and fudge-covered almonds might seem as alluring as "the city that never sleeps," but eating too much of this caloric, carb, and sugar bomb disguised as a treat may also result in you owning a pair of pants that never zip. Eating this teeny pint will account for about 70% of the recommended daily value for sugars.
Blue Bunny Peanut Butter Party
PER CONTAINER

: 750 calories, 43 g fat (24 g saturated fat, 0 g trans fat), 390 mg sodium, 79 g carbs (4 g fiber, 57 g sugar), 13 g protein
Blue Bunny is another reputable ice cream company that can be found in big supermarkets. A single pint of Blue Bunny's Peanut Butter Party ice cream contains nearly 800 calories though—that's almost half your daily calories, which is a lot to devote to just dessert. You'll notice that ice creams with peanut butter swirled into the mix are some of the biggest calorie and fat offenders across the board (including on this list). Remember, just two tablespoons of the nut butter comprise about 16 grams of total fat and just under 200 calories.
Blue Bell Creameries' Pecan Pralines 'n Cream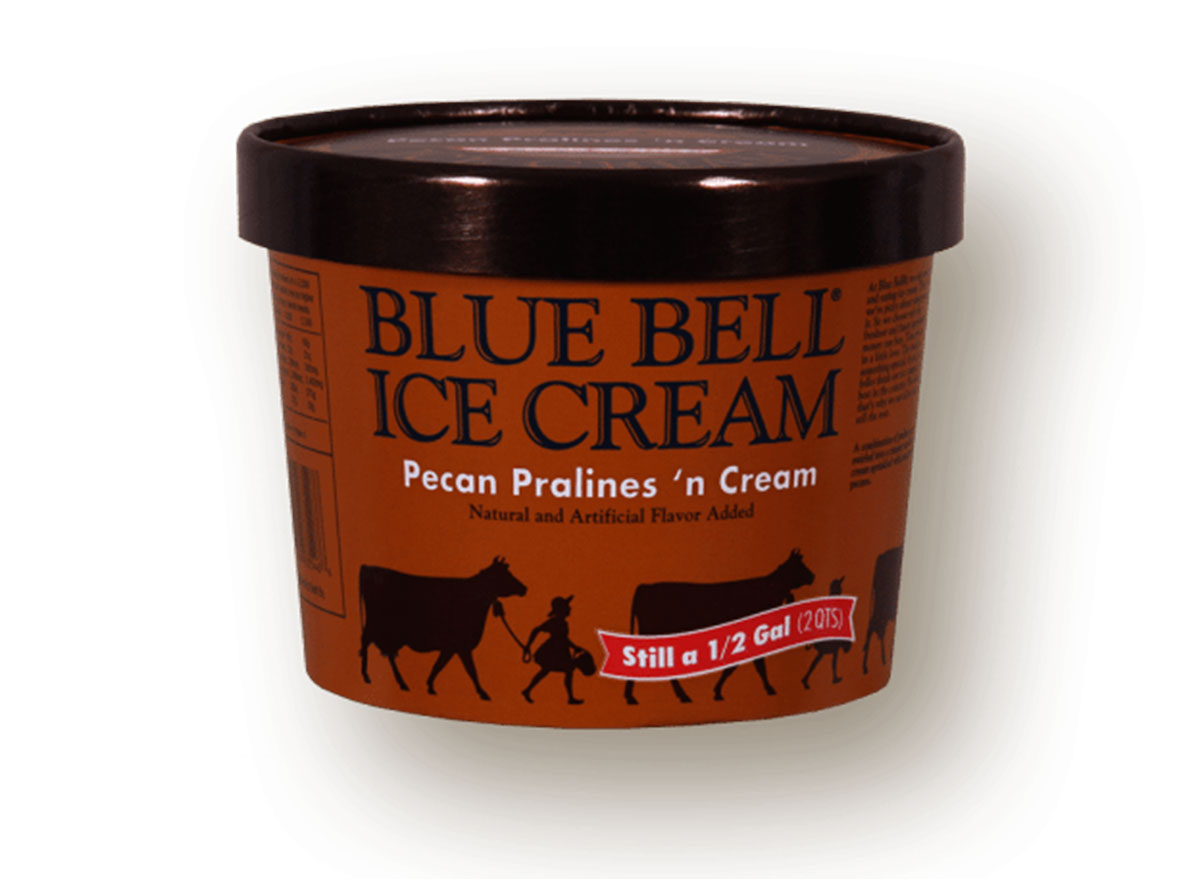 PER CONTAINER

: 750 calories, 36 g fat (21 g saturated fat, 0 g trans fat), 300 mg sodium, 93 g carbs (0 g fiber, 81 g sugar), 12 g protein
Blue Bell Creameries has origins in Brenham, Texas, selling its first batch of ice cream over a century ago in 1907. Now, it's among one of the most recognizable ice cream companies in the nation. While Blue Bell Creameries' ice cream as a whole isn't unhealthy, one particular flavor stands out among the rest: Pecan Pralines 'n Cream. Why? Not only is it one of the most caloric pints of ice cream the brand produces, but it also contains an alarming 81 grams of sugar. To put this into perspective, that's about as much sugar as you'll find in two 12-ounce cans of Coca-Cola.
Coolhaus' Street Cart Churro Dough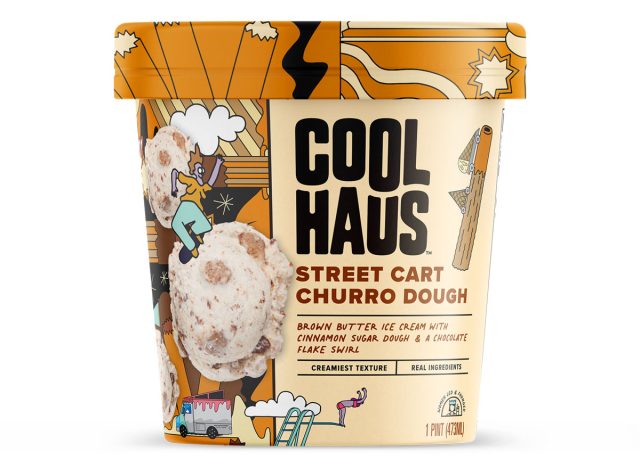 PER CONTAINER

: 990 calories, 63 g fat (42 g saturated fat, 0 g trans fat), 105 mg sodium, 93 g carbs (6 g fiber, 57 g sugar), 9 g protein
Coolhaus goes beyond traditional flavors, but these funky ice cream flavors cost you a boatload of calories and saturated fat. A pint of the Street Cart Churro Dough ice cream just about wipes out half of your day's worth of calories and represents just 15 grams less total saturated fat than you'd find in an entire stick of butter. The one plus side to Coolhaus ice cream products is that they don't use artificial sweeteners—so the sweetness your tongue detects in this particular flavor is from organic cane and brown sugar, as well as molasses. Still, that's a small plus in comparison to the calories and saturated fat you'll be consuming eating this entire pint.
Häagen-Dazs' Chocolate Peanut Butter Ice Cream
PER CONTAINER

: 1,190 calories, 81 g fat (39 g saturated fat, 1.75 g trans fat), 525 mg sodium, 95 g carbs (7 g fiber, 84 g sugar), 21 g protein
Another peanut butter-flavored ice cream strikes again! A single pint of this ice cream, which, it's worth noting, is two ounces less than a traditional pint of ice cream, packs nearly 1,200 calories. For context, you would consume fewer calories if you ate two McDonald's Quarter Pounder (with cheese) sandwiches.
Ben & Jerry's Chubby Hubby
PER CONTAINER

: 1,380 calories, 84 g fat (45 g saturated fat, 2 g trans fat), 650 mg sodium, 134 g carbs (4 g fiber, 106 g sugar), 29 g protein
Because the name of this flavor is cutesy and not descriptive—a signature move of Ben & Jerry's—here's what makes Chubby Hubby what it is: "Vanilla malt ice cream with peanutty fudge-covered pretzels with fudge & peanut buttery swirls" (as stated on the site and at the bottom of the ice cream pint). So, a ton of fudge, peanut butter, and pretzels mixed into malt ice cream—it's pretty clear how this ice cream accumulates so much saturated fat, carbs, and sugar. There's a reason it's one of their most popular pints.
Ben & Jerry's Peanut Butter Cup
PER CONTAINER

: 1,400 calories, 98 g fat (54 g saturated fat, 2 g trans fat), 550 mg sodium, 109 g carbs (0 g fiber, 96 g sugar), 28 g protein
And finally, the most unhealthy ice cream pint of them all: Ben & Jerry's Peanut Butter Cup. This pint has the largest combination of total calories, saturated fat, and sugar of any of the brands on this list. If you just love peanut butter in ice cream but also want to save your waistline, it may be time to opt for an alternative ice cream brand. (For comparison, Enlightened's Chocolate Peanut Butter ice cream pint clocks in at just 400 calories.)