Potassium often gets overlooked when it comes to discussions about nutrients, but potassium is a vital mineral needed for a variety of functions throughout the body related to your heart, nervous system, and muscles. Because of this, incorporating potassium-rich foods into your diet is important.
Getting enough potassium in your diet may help lower blood pressure levels and decrease the risk of stroke, and your body needs enough potassium for fluid balance and proper functioning of cells and the nervous system, as well as healthy muscle contractions.
Potassium helps your muscles contract at a healthy rate, which is directly linked to heart functioning, and 80% of the body's potassium is found in the skeletal muscle. When you don't get enough potassium, you may experience muscle weakness or in more severe cases, potential heart issues due to a lack of muscle contractions.
You can supplement potassium, but one of the easiest ways to get enough of this nutrient is to consume high-potassium foods and drinks.
How much potassium do you need per day?
The U.S. Food and Drug Administration (FDA) set the daily value (DV) for potassium at 4,700 milligrams for adults and children over the age of 4 years.
Recently, the 2020-2025 Dietary Guidelines for Americans named potassium as a nutrient of concern, which means the majority of Americans consume less than the recommended amount. Data shows that the average daily potassium intake of the U.S. population in 2017-2018 was 2,496 milligrams—a whopping 53% of the recommended daily value.
The best high potassium foods—listed from highest to lowest concentration per standard serving.
Potassium-rich foods include fruits and vegetables, dairy products like milk and yogurt, and protein foods such as poultry, some fish, and beans.
Most Americans get their potassium from fruits and vegetables, which accounts for 23% of their total intake, followed by grain-based dishes (15%) and then meats (10%), but there are so many excellent sources of this mineral.
For a healthy heart, nervous system, and muscles, try incorporating some of the following potassium-rich foods into your diet.
Sundried Tomatoes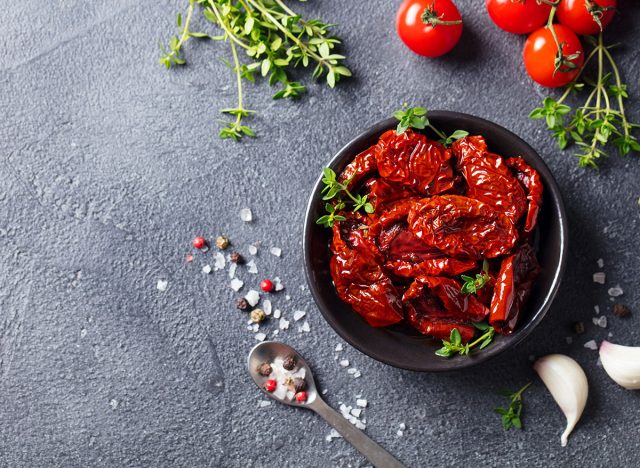 Potassium per 1/2 cup: 925 milligrams (19.7% DV)
Toss them in your pasta dish or place them atop your homemade pizza, because sundried tomatoes are packed full of potassium with almost 20% of your daily value in 1/2 cup.
Along with providing a hefty dose of potassium, sun-dried tomatoes also contain over 13% of your daily value of iron, as well as over 3 grams of protein and fiber.
Acorn Squash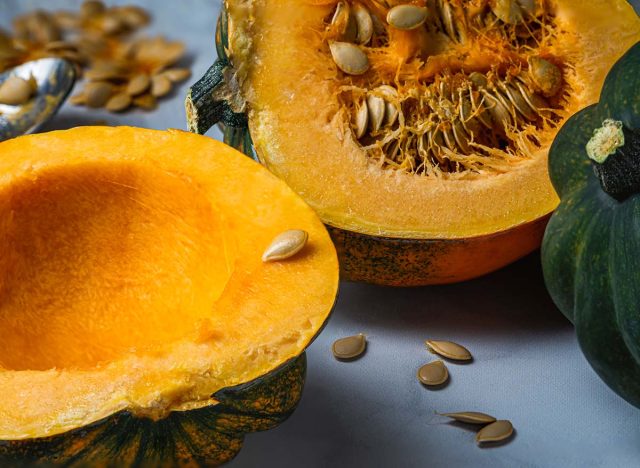 Potassium per cup: 896 milligrams (19.1% DV)
Acorn squash is a winter squash rich in potassium, with 19% of your daily value. It also has a good amount of antioxidants, vitamins A and C, and fiber, making it a super healthy vegetable for your favorite cozy winter dishes.
An easy way to cook acorn squash is to cut it in half and roast it in the oven. You can enjoy the roasted squash as is with some light seasoning, or you can throw it into a soup or bowl of chili.
Russet Potato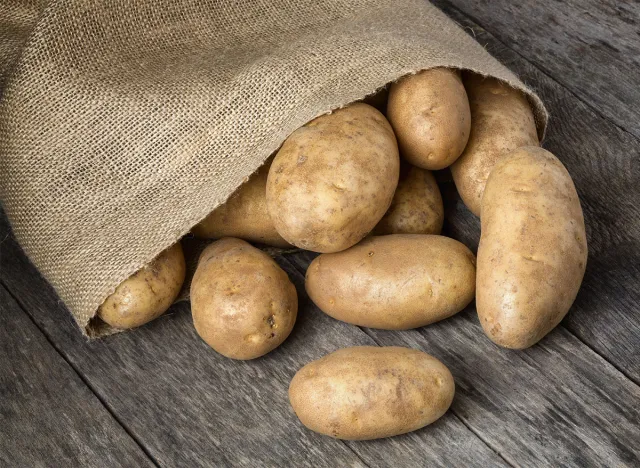 Potassium per medium potato: 888 milligrams (18.9% DV)
Russet potatoes, which are often called white or Idaho potatoes, are a great way to get a boost of potassium because they're so easy to cook with and can be added to a variety of different dishes. To enjoy almost 19% of your daily value of potassium, cook a baked potato, make some hashbrowns for breakfast, or treat yourself to some homemade fries for your dinner side item.
Spinach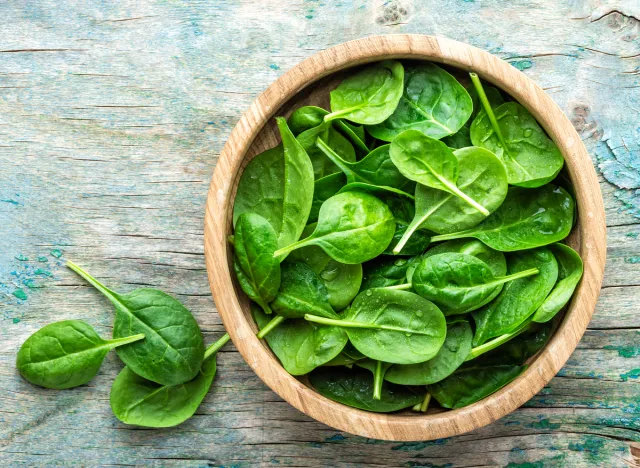 Potassium per cup, cooked: 839 milligrams (17.9% DV)
A serving of spinach will provide you with nearly 18% of your daily value of potassium, but its benefits don't stop there. This superfood is high in fiber, iron, vitamins A, C, and K, and calcium. One study also found that supplementing spinach extract and participating in regular exercise was linked to better muscle health in adults over 50.
To get the muscle-healthy benefits of spinach, you can saute it, make a refreshing salad, or throw it into your next smoothie.
Dried Apricots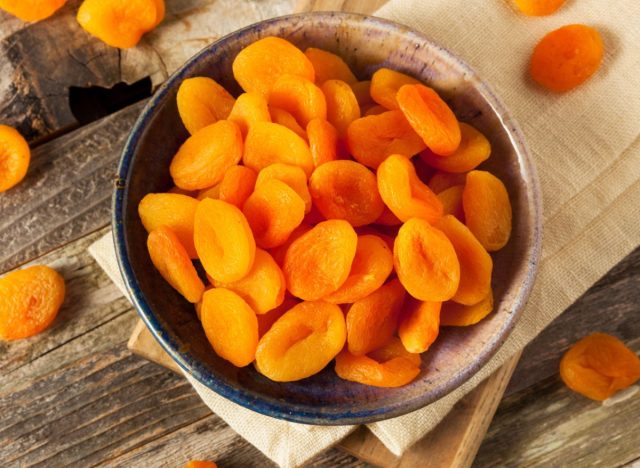 Potassium per 1/2 cup: 755 milligrams (16.1% DV)
Snacking on dried apricots can help satisfy a sweet craving, but did you know it can also serve up a potassium boost? A 1/2 cup serving gives you 16% of your daily value of potassium, as well as almost 5 grams of fiber, which can help keep you full until your next meal.
Lentils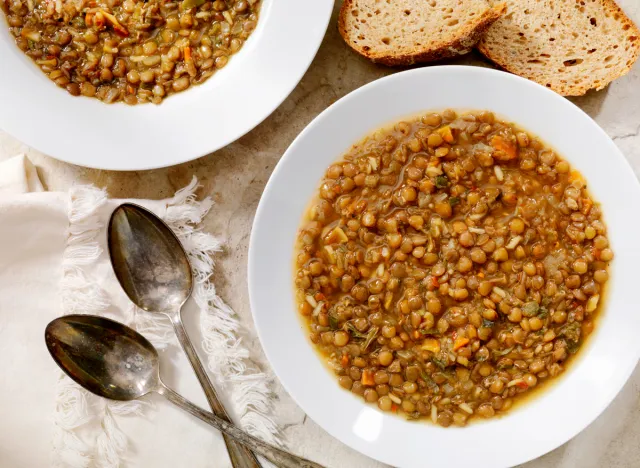 Potassium per cup, cooked: 731 milligrams (15.5% DV)
Cook up some lentil soup or a side of this legume to enjoy the potassium benefits. With over 15% of your daily value, lentils are an easy and affordable way to get more of this nutrient in your meal.
Lentils are also great for making soup because they disintegrate as you cook them and form a thick, creamy texture. Add in your favorite vegetables and your choice of meat for added protein, and you'll have a delicious and fully balanced meal.
Avocado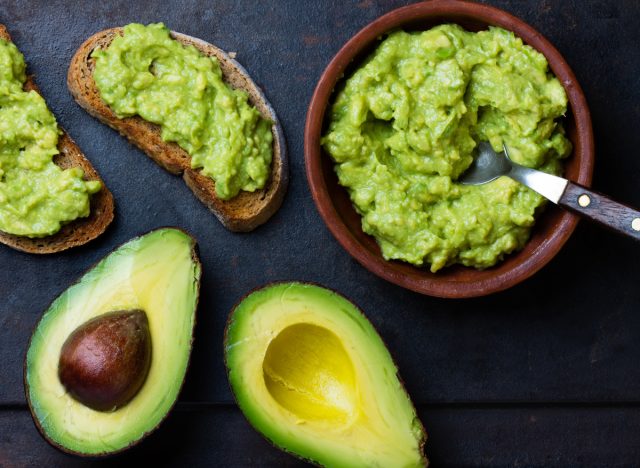 Potassium per avocado: 690 milligrams (14.7% DV)
You can use avocados in so many different types of dishes. You can whip up some guacamole, use it as a spread on top of toast, eat it with soup or chili, or add frozen avocado to your smoothie. However you choose to enjoy this superfood, you'll get almost 15% of your daily value of potassium, plus 10 grams of fiber and plenty of healthy fats.
Prunes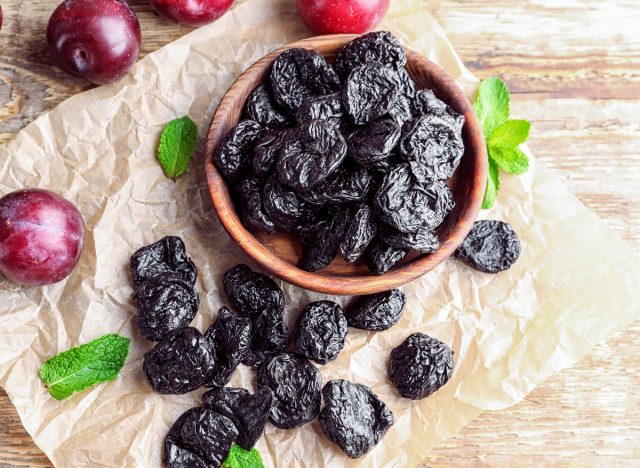 Potassium per 1/2 cup: 635 milligrams (13.5% DV)
Prunes are known as nature's remedy for constipation, but they do more than just help to keep things moving. This fruit—made from drying out plums—is also high in potassium with over 13% of your daily value in each serving.
Along with potassium, you're also getting fiber, vitamin A, choline (which is known to help with both muscle and brain health), and plant compounds like carotene, lutein, and zeaxanthin that have antioxidant properties.
Kidney Beans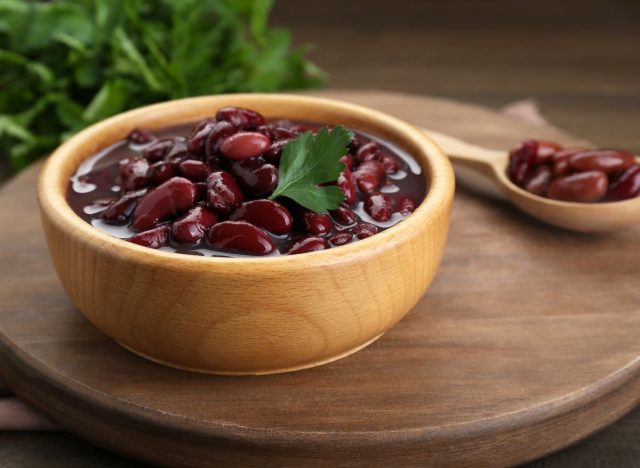 Potassium per 1/2 cup: 607 milligrams (12.9% DV)
Kidney beans serve up 13% of your daily value of potassium, as well as around 6 grams of protein and 5 grams of fiber per serving. You can buy this healthy legume canned and cook it in a ton of different dishes, like soup, curry, chili, salads, and rice dishes, or you can roast them in the oven for a crunchy snack.
Butternut Squash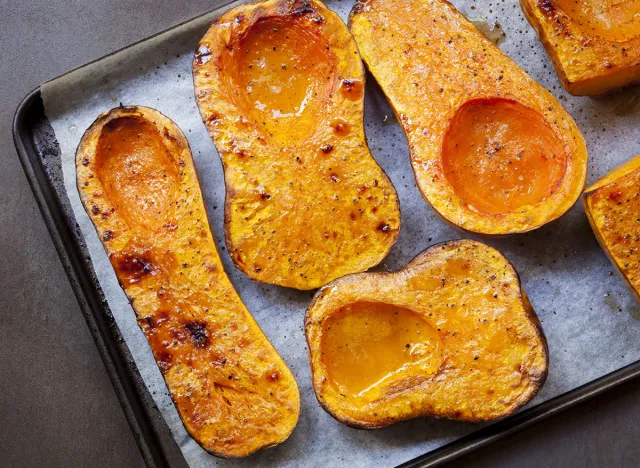 Potassium per 1 cup: 582 milligrams (12.4% DV)
Butternut squash is a vegetable that can help with your muscle health and fit perfectly into some of your favorite fall recipes. It has over 12% of your daily value of potassium, as well as nutrients like fiber, iron, magnesium, selenium, vitamins A and C, and powerful antioxidant compounds like carotene.
Use butternut squash in a soup or pasta dish, or roast them in the oven with olive oil and herbs like sage or rosemary.
Sweet potato
Potassium per medium potato: 542 milligrams (11.5% DV)
Don't hold back on the sweet potato casserole this season, because sweet potatoes are considered a potassium-rich food and provide you with fiber, protein, and antioxidants as well. Aside from the classic casserole at Thanksgiving, you can enjoy this vegetable mashed, roasted, as fries, in a soup or chili, or cut up and sauteed with some of your other favorite vegetables.
White Beans
Potassium per 1/2 cup, cooked: 500 milligrams (10.6% DV)
All types of beans are healthy because they are nutrient-dense and contain high levels of things like fiber and protein, and many types of beans are considered high in potassium too. White beans fall into this category with over 10% of your daily value of potassium with each serving, and they're mild in flavor so they can be cooked into any soup or chili for added nutrients.
Orange Juice
Potassium per 1 cup: 458 milligrams (9.7% DV)
People usually talk about orange juice when they're trying to up their vitamin C intake during a cold or sickness, but this beverage offers more than just a tasty immunity boost. A cup of OJ provides you with almost 10% of your daily potassium value, so it's a simple (and delicious) way to get a taste of this nutrient first thing in the morning.
Banana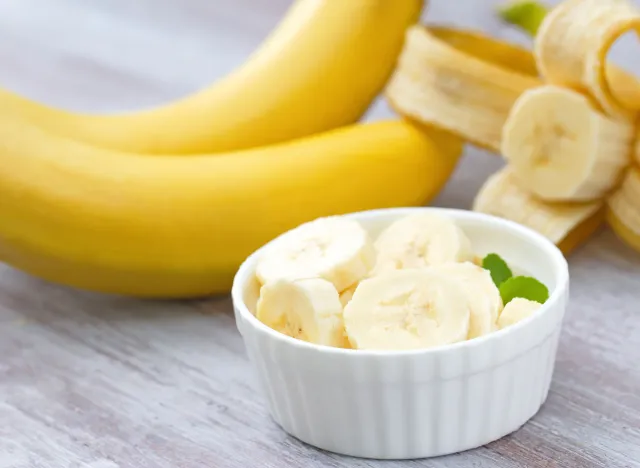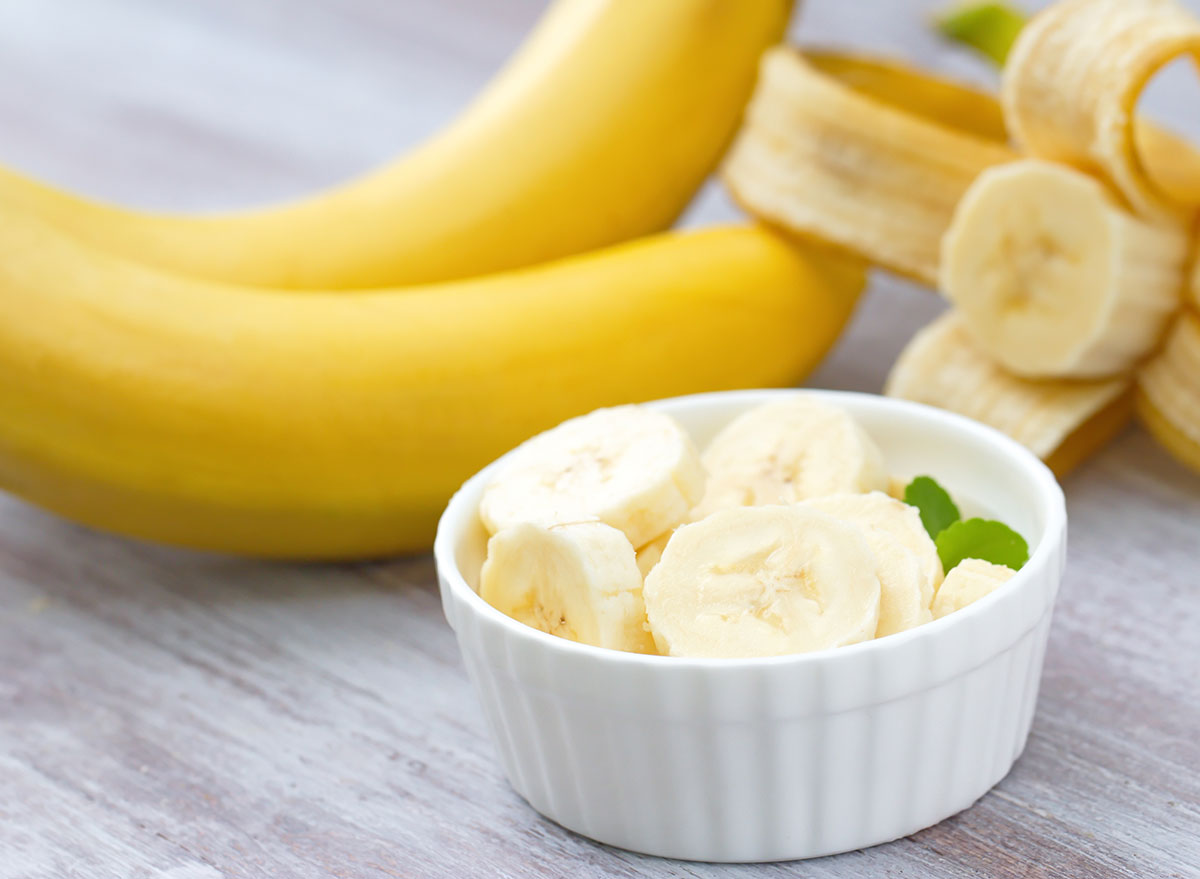 Potassium per medium banana: 422 milligrams (9% DV)
Most of us probably grew up hearing that if we need more potassium, we should grab a banana. As you can see though, bananas are a bit far down on our list. They're still a potassium-rich food, but there are plenty of other foods to choose from that can provide you with higher levels.
But for some of this muscle-healthy mineral to start your day, add a banana to your oatmeal, smoothie, or yogurt bowl in the morning.
Yogurt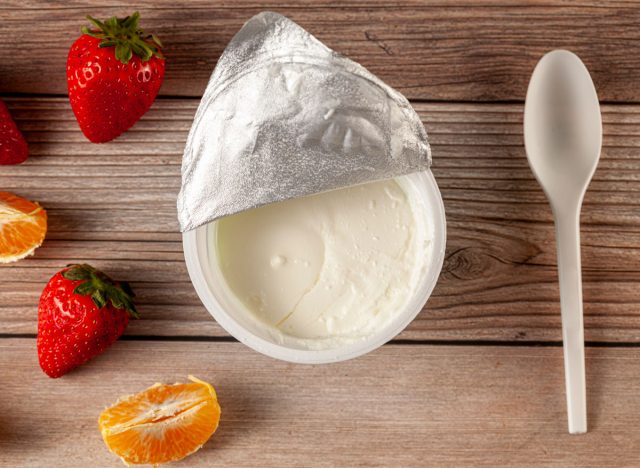 Potassium per 6-ounce container: 398 milligrams (8.5% DV)
Most people don't think of potassium when they think of the health benefits of yogurt. Usually, the spotlight is on its levels of calcium, protein, or probiotics, but most yogurts are rich in potassium (with 8.5% of your daily value) and can contribute to your healthy muscle goals.
To enjoy even more potassium with your yogurt, throw in some bananas, apricots, or raisins.
Milk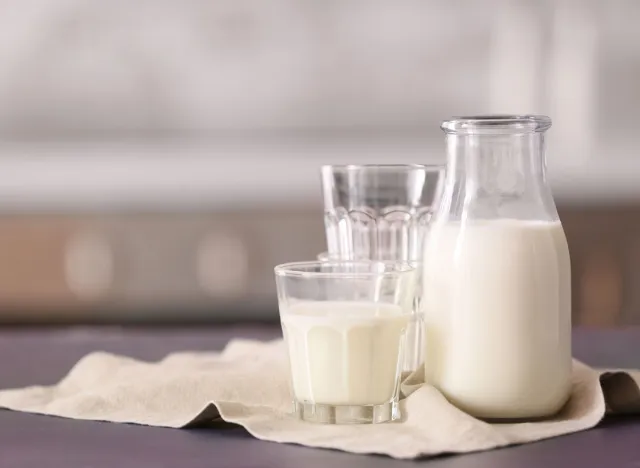 Potassium per 1 cup: 366 milligrams (7.8% DV)
Unless you're vegan or are lactose intolerant, incorporating dairy milk into your diet can benefit your health in several ways, especially if you're trying to improve your muscle health. For one, dairy milk is high in both protein and calcium, which are nutrients needed for stronger and healthier muscles.
Along with protein and calcium, milk is also rich in potassium with almost 8% of your daily value per cup.
Chicken Breast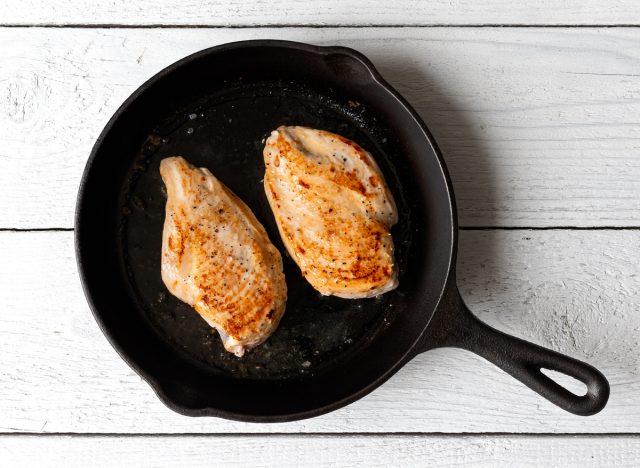 Potassium per 3-ounce serving: 357 milligrams (7.6% DV)
Great news: the most popular protein in the U.S. happens to provide a solid amount of potassium! While a 3-ounce portion serves up roughly 8% of your daily value, if you consume a whole breast, you'd take in 806 milligrams of potassium, or 17% of the daily value.
Steak
Potassium per 3-ounce top sirloin filet: 324 milligrams (6.9% DV)
People may turn to steak when they want a boost of protein or iron—or if they just want to treat themselves to something delicious. But what many steak lovers may not realize is that you'll also get a dose of potassium, which when combined with protein and iron can help you maintain your muscle health.
Red meat in larger quantities may not be great for some people depending on their health needs, so talk with your doctor before implementing steak regularly.
Salmon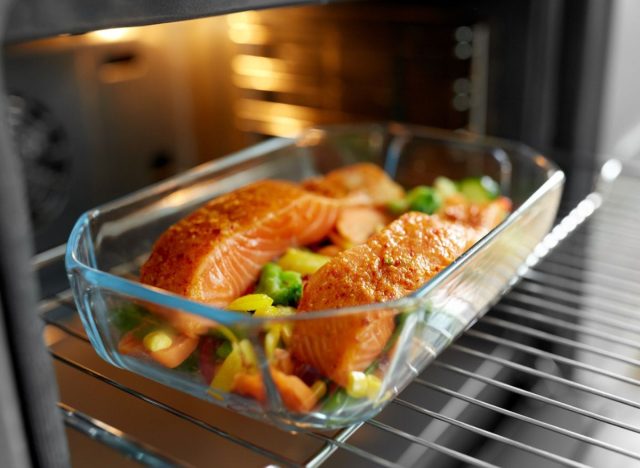 Potassium per 3-ounce filet, farmed: 309 milligrams (6.6% DV)
Salmon is a superfood full of protein, healthy fats (omega-3 fatty acids), and B vitamins, and it contains a decent amount of potassium (6.6% of your daily value) per filet as well.
Beyond the potassium in salmon helping with your muscle health, the same omega-3 fatty acids found in salmon (and many other fatty fish) have been linked to stronger skeletal muscle and increased muscle protein synthesis.
Raisins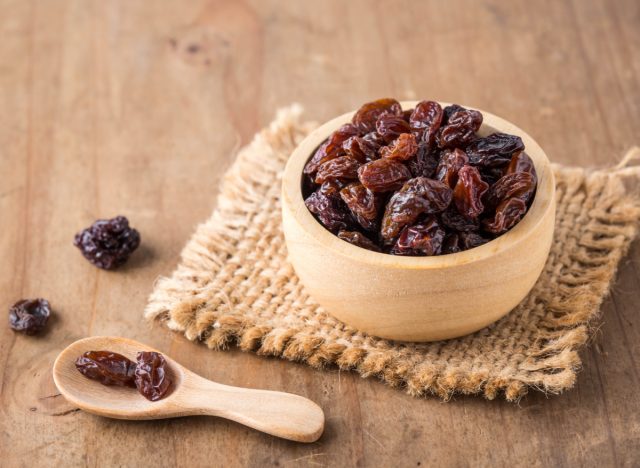 Potassium per 1/4 cup: 300 milligrams (6.4% DV)
And lastly, for a quick, easy, affordable way to get a boost of potassium, grab a handful of raisins. This dried fruit carries more than 6% of your daily value of potassium, so grab a handful to snack on or add them to your oatmeal or lunch salad.